Discover in this article the best beaches of l'Ampolla!
L'Ampolla is a village located in Tarragona, in the Baix Ebre region, and is known as "the gateway to the Delta de l'Ebre", due to its proximity to Terres de l'Ebre. The magnificent location of l'Ampolla allows visitors to enjoy unparalleled rocky coves and beaches with crystal clear water, huge green areas and incomparable wildlife. If you are looking for a beach destination for the summer vacations and you want to rest, relax and disconnect, l'Ampolla is your place.
We have prepared a list of the best beaches in l'Ampolla, so that all you have to think about is what to pack in your suitcase. We are convinced that you will like them all because each of them has its own charm. The Cap Roig Nature Hotel, located on a cliff and immersed in nature, is close to all of them, so it is the perfect hotel to stay at during your stay in l'Ampolla. The list starts with the beaches that are closest to Cap Roig and ends with those closest to the Delta de l'Ebre.
Perelló Beach
La Buena Cove
Cap Roig Beach
Perales Beach
Baconé Beach
STAY AT THE HOTEL CAP ROIG NATURE!
Capellans Beach
Pinets Beach
Avellanes Beach
Arenal Beach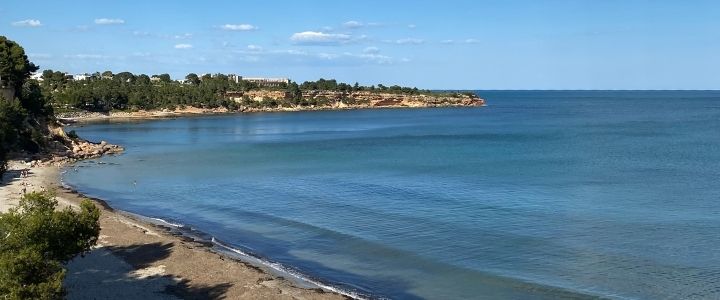 Have you already thought about which is the first one you are going to go to?
Below, we leave you a video in which you can see how long it takes to get from Cap Roig Beach to the Cap Roig Nature Hotel.
Did you like the article? Share it with your friends!